Home
Biography
Tables, Chairs
Cabinet Furniture
Beds, Built-ins, Other Work
Exhibitions, Galleries, News
Articles
Teaching and Student Work
Contact
Richard Jones Furniture

Oak and Sycamore Drinks Cabinet



English oak, sycamore and lacquered.

H 940 mm X D 420 mm X W 1260 mm (H 37" X D 16-1/2" X W 49-5/8")

Commissioned piece. I made this piece in the early 1980s for a client. I was able to revisit it twenty five years later which gave me the chance to take a few more photographs. It has aged very well with only minor deterioration of the lacquered finish and one small structural failure. The structural failure, although only slight, is because I didn't allow for quite enough shrinkage of the drinks serving shelf under the tambor. At the left of this shelf is a solid through dovetailed sycamore drop-in bottle well for tall bottle of spirits, etc that sits behind the left hand false drawer front. I made it just a millimetre or so too deep front to back and, because the long grain side of the box doesn't change in length as the seasons change, but the cross grain shelf does the shelf has developed a slight split near the front edge at the joint between the main body of the shelf and the long front rail that spans from one end panel of the cabinet to the other.

However, as this was one of my earliest, and perhaps therefore one of my most conservative designs, I am pleased to see it has survived so well. I am particularly pleased that the spring loaded piston devices I made that help lift the tambor at the beginning of the closing movement, and cushion it at the end of the opening movement still work as they are intended to do.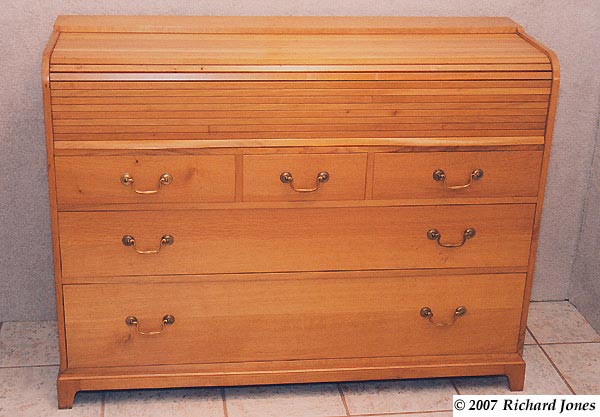 Below. Detail of the serving shelf under the tambor top. The sycamore bottle well is partially lifted out of its recess. The purpose of making the bottle well removable is to allow the cleaning up of spills and/or dirt, and replacement of the well entirely if something disastrous should have happened to it.

Below, close-up of the secret mitred dovetail that connects the cabinet side to the cabinet top. The tambor slides under the 150 mm wide top, and the underside of the tambor with its canvas backing is hidden by a sycamore panel-- see photograph above.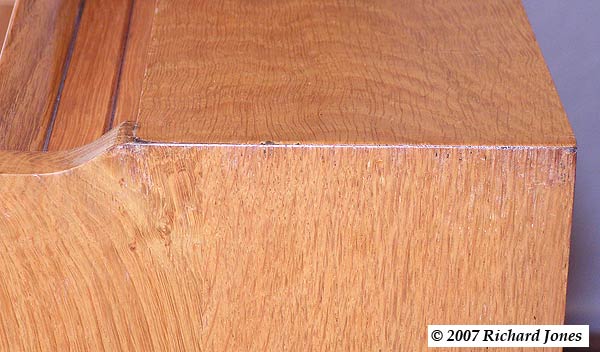 Below. The carcass sits atop a separate plinth made of rails morticed and tenoned into short legs mitred together at the outside corner. Above this plinth sits a second mitred frame, 45 mm wide X 18 mm deep with a cove profile worked on the outer edge. The plinth is screwed upwards into the cabinet with screws along the front edge, and table top style 'buttons' screwed up into place along the side returns to allow for expansion and contraction of the cabinet side and bottom panels .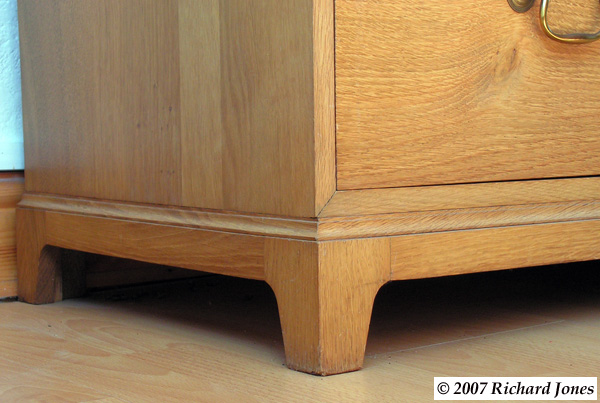 ---
Home
Biography
Tables, Chairs
Cabinet Furniture
Beds, Built-ins, Other Work
Exhibitions, Galleries, News
Articles
Teaching and Student Work
Contact